Aegon over donatie restwaarde ICT-apparatuur aan de Guindy School in India
Aegon doneert via Stichting ITdonations de restwaarde van haar oude ICT-apparatuur aan de Guindy School in Chennai, India.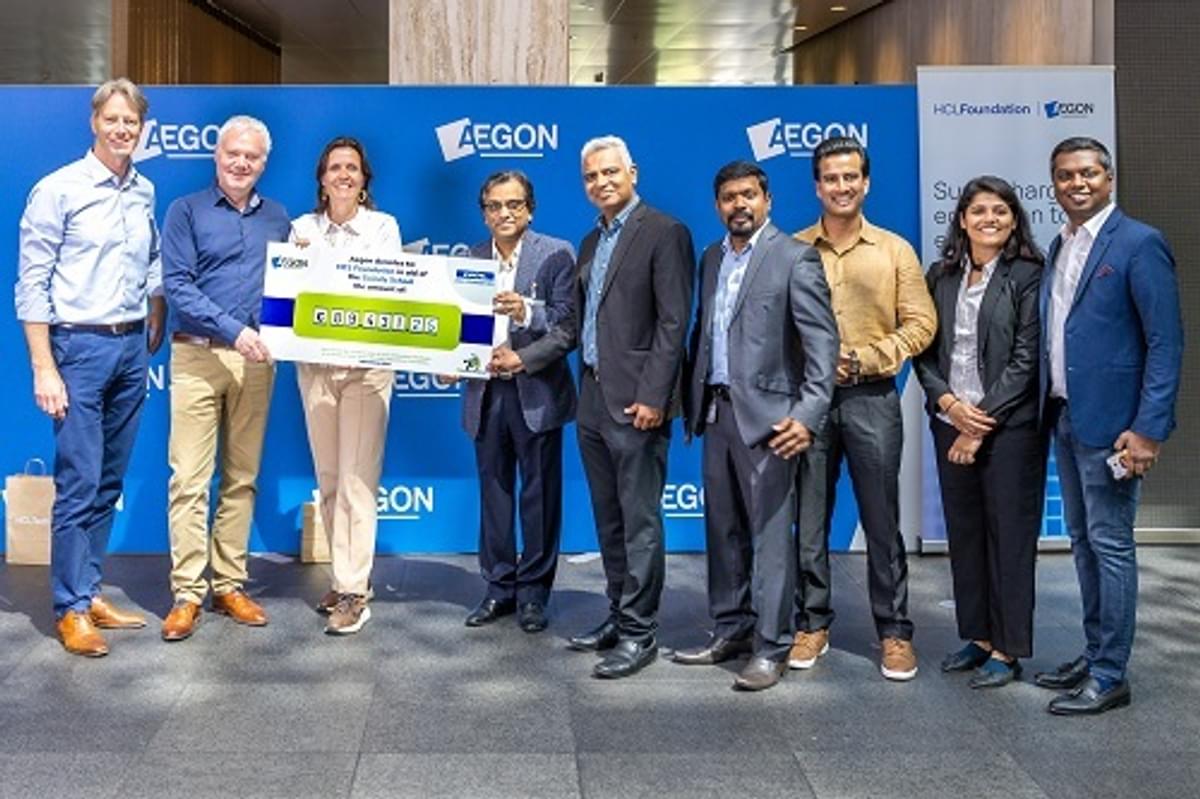 Op 22 mei overhandigden Aegon's Koos van der Veen (IT Director) en Kees Jan Stam (Vendor Manager) een cheque met de waarde van € 89.413,25 aan Sudip Lahiri, EVP & Head – Europe, Financial Services and Naresh Narang, Global Client Partner from HCLTech, ten behoeve van deze school. Ook de heer Gince K. Mattam, plaatsvervangend hoofd van de Indiase ambassade in Nederland was hierbij aanwezig. De Guindy School geeft gratis onderwijs aan de armste groepen in de regio. Ze geven les aan kinderen tot 17 jaar om ze voor te bereiden op het hoger onderwijs.
Kees Jan Stam: 'Aegon is er trots om bij te kunnen dragen aan het succes van de Guindy-school. Sinds 2014, toen HCLTech de school aan ons voorstelde, heeft de school, haar leerlingen en personeel ons aan het hart gelegen. We zien gemotiveerde docenten en leerlingen, wat resulteert in hoge slagingspercentages. Zonder hoger onderwijs is in India de kans op een maatschappelijke carrière nihil, dus een goede start in het schoolleven van een kind daar is onontbeerlijk. We hopen dat de school met dit bedrag nog meer mooie dingen kan doen voor de schooljeugd.'
Met eerdere donaties van Aegon aan de Guindy-school (voluit: Lions Club of Guindy Labour Colony High School) zijn een waterzuiveringsinstallatie en een wetenschapslokaal gerealiseerd. Ook hebben Aegon-medewerkers geholpen met het schilderen van de schoolgebouwen.
Over Stichting ITdonations
Stichting ITdonations, opgericht in 2007, maakt het voor bedrijven en organisaties makkelijk om maatschappelijk verantwoord te handelen door de restwaarde van hun overtollige IT-apparatuur te schenken aan een goed doel naar keuze. De stichting haalt de apparatuur op, zorgt voor veilige dataverwijdering en voor de restwaarde. Inmiddels is via de Stichting al meer dan € 3,4 miljoen aan donaties gerealiseerd.

Op de foto van links naar rechts:
Koos van der Veen, Aegon
Kees Jan Stam, Aegon
Sandra Mulder, ITdonations
Sudip Lahiri, HCLTech
Naresh Narang, HCLTech
Francis Sixthoose HCLTech
Bineet Semwal HCLTech
Christina James HCLTech
Sunil Kumar P. HCLTech