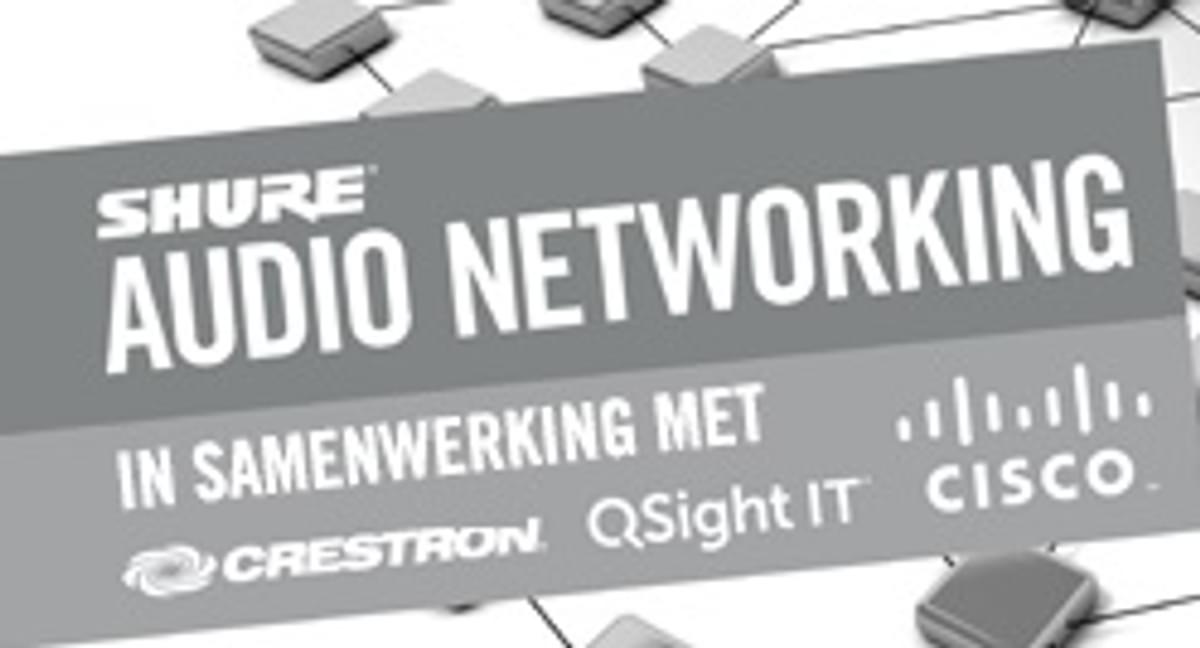 Moderne vergaderruimten (waaronder huddle rooms en boardrooms) worden steeds flexibeler gebruikt en zijn steeds vaker uitgerust met moderne audiovisuele middelen die effectief overleg op afstand mogelijk maken.
Of het nu gaat om het brainstormen van nieuwe ideeën, het presenteren en bespreken van kansen en uitdagingen of om besluiten te nemen - het succes van een bijeenkomst hangt af van efficiënte communicatie tussen alle deelnemers. Het beheer van deze systemen vraagt daardoor ook steeds meer tijd en energie, en ondertussen maken ze allemaal onderdeel uit van het bestaande corporate IT netwerk.
Maar hoe zorg je ervoor dat de verschillende hardware componenten optimaal aansluiten bij de gebruikte corporate infrastructuur?
En, aan welke vereisten moet AV-apparatuur voldoen om volgens de beveiligingsrichtlijnen van een bedrijf te opereren?
Deze en andere vragen worden beantwoord op het Audio Networking event op 30 mei 2017, Tijd: 09:30 – 16:30, Jaarbeurs MeetUp, Utrecht, Nederland
Audio Networking is een Shure evenement in samenwerking met QSight IT, Crestron en Cisco. Onderwerpen die aan bod komen:
QSight IT
Audio Networking: het woord zegt het al. Networking houdt in dat Audio deel uit gaat maken van een netwerk: bedraad, draadloos via Wifi of, Internet, etc. En op het moment dat er IP gerelateerde apparatuur in een netwerk wordt geplaatst heeft dat onmiddellijk gevolgen voor de veiligheid van dat netwerk. Wat zijn de aandachtspunten? Wat zijn de uitdagingen? QSight IT is de cybersecurity specialist van Nederland, en praat u hierover bij.
Cisco
Cisco Spark is an app-centric, cloud-based service that provides a complete collaboration suite for teams to create, meet, message, call, whiteboard, and share—in one continuous workflow before, during, and after meetings.
Designed from the grounds up and leveraging the extensive experience that Cisco has accrued across all the collaboration pillars, Cisco Spark completely transforms the meeting experience both virtually and physically. Videoconferencing is more affordable and easier to use than ever. No URIs, no Conferencing Bridges, no complicated scheduling platforms. Simply click on a button on your phone or laptop to start or join a meeting directly from the endpoint. Set up process has also been simplified to the maximum; no need to configure complicated On-Premise servers, size MCUs or plan ahead; Simply enter a 16-digit code in your brand-new Cisco Collaboration endpoint and you are ready to go.
We will show this magic using a basic Cisco Spark endpoint and will also demonstrate a fully customized integrator environment; How to control lighting, heating, blinds and other room features directly from the endpoint and how to easily manage audiovisual inputs within the drag-and-drop console built-in our codecs.
Cisco Spark is here to help you and your customers do business as it has never been possible before, and to take the video experience to a whole new level.
Crestron
Crestron innoveert al vele jaren op het gebied van technologieën die samenwerken makkelijker en toegankelijker maken door verschillende systemen met elkaar te integreren. Crestron was dan ook de eerste fabrikant die voor zijn control producten gebruik maakte van een netwerk poort (reeds 25 jaar geleden!) En intussen is deze uiteraard niet meer weg te denken van elke control processor. De laatste ontwikkelingen zijn uiteraard Audio en 4K/ UHD video distributie via ditzelfde netwerk. Ook hiervoor heeft Crestron vooruitstrevende oplossingen ontwikkeld welke we graag uitgebreid voorstellen. Oftewel, het is niet meer "alleen" gebouwautomatisering en aansturing over het bedrijfsnetwerk, maar nu ook alle AV distributie.
Shure
Shure ontwikkelt high-end microfoon oplossingen die geconnecteerd worden door middel van 1 single ethernet port op de producten. Dit geeft de mogelijkheid om de producten te beheren en te managen vanuit bijvoorbeeld 1 service ruimte. Door het toepassen van deze producten in het netwerk kun je met behulp van ons software systeem veel meer informatie generen en aanpassingen maken vanaf afstand. Hoe je deze producten inbrengt in bestaande IP en IT omgevingen laten wij graag zien!
AGENDA
09:30 – 10:00 Ontvangst
10:00 – 10:15 Introductie
10:15 – 11:00 Cisco
11:00 – 11:15 Break
11:15 – 12:00 QSight IT
12:00 – 13:00 Lunch
13:15 – 14:00 Crestron
14:00 – 14:15 Break
14:15 – 15:00 Shure
15:00 – 15:15 Afsluiting
15:15 – 16:30 Netwerkborrel
SPREKERS
Mark Ebing, Product and Application Specialist, Shure Distribution Benelux
Servie Janssen, Marketing manager, Qsight IT
Daniel Kerkhof, Sales manager Nederland, Crestron
Martijn Blokland, Regional Director Spark Video Sales Cisco