Dutch IT Channel Awards 2022 genomineerden zijn bekend!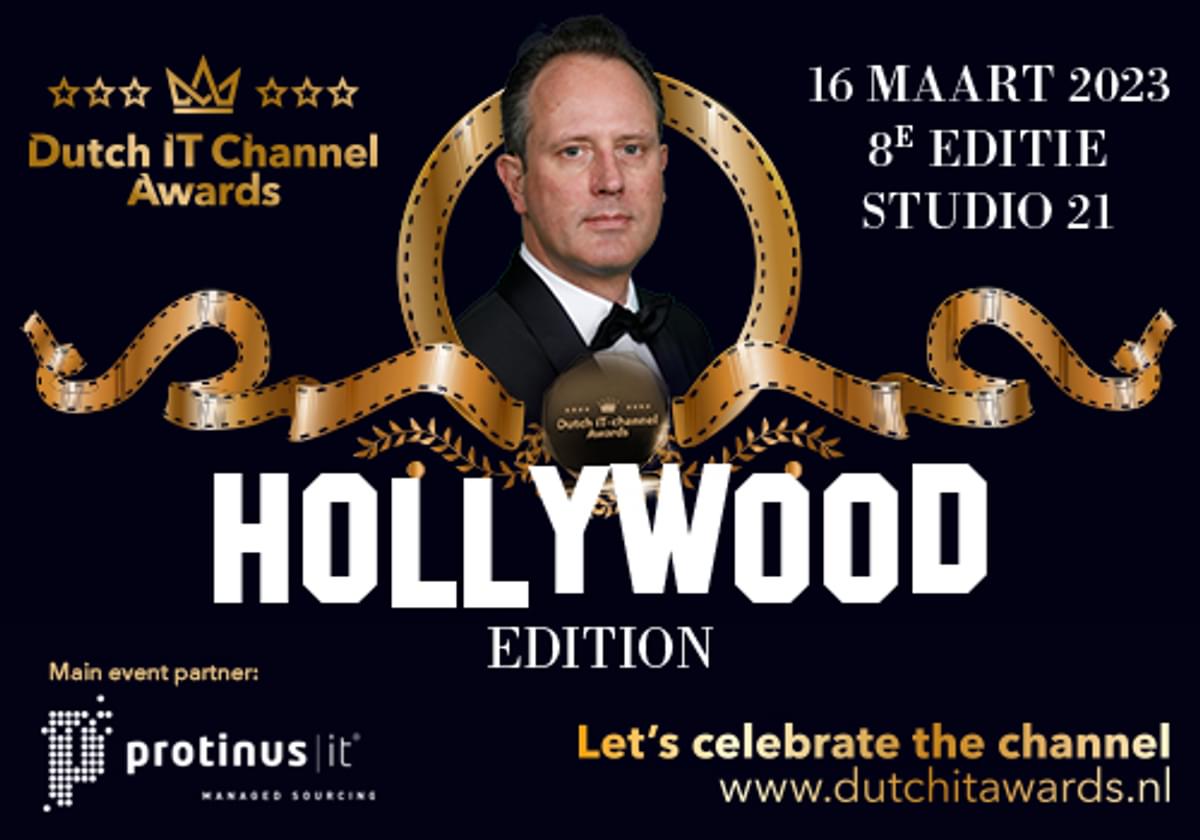 Het is zover, de genomineerden zijn bekend en het stemproces voor de achtste editie van de Dutch IT Channel Awards is gestart! Er kan tot en met 17 februari 2023 worden gestemd op honderdtwintig genomineerden in 24 verschillende categorieën op dutchitawards.nl/stemmen. De felbegeerde Awards worden op 16 maart in Studio21 te Hilversum tijdens een spectaculaire show in Hollywood stijl uitgereikt.
Breng ook uw stem uit op: www.dutchitawards.nl/stemmen
In de zomer van 2022 zijn de nominatiecategorieën voor de Dutch IT Channel Awards bekend gemaakt. Witold Kepinski, Director Content en Editor in Chief van Dutch IT Channel: "Sindsdien hebben vele hun favoriete VAR, MKB-reseller, service provider, distributeur, vendor en/of toonaangevende personen uit de Nederlandse IT business genomineerd. De jury heeft uit de vele honderden inzendingen een definitieve lijst van genomineerden per categorie samengesteld. Deze genomineerden krijgen de komende tijd volop aandacht, zoals online op de websites, op social media en in het Dutch IT Channel Magazine dat in januari 2023 verschijnt met daarin alle genomineerden en nieuws over het gala. Naast de genomineerden in diverse categorieën waarop gestemd kan worden, wordt er op 16 maart ook een Editors' Choice Award uitgereikt door de redactie van Dutch IT-channel gekozen."
Goed Doel
Elk jaar ondersteunt de organisatie van de Dutch IT Channel Awards een goed doel in het kader van maatschappelijk ondernemen (MVO). Frans Vertregt, Managing Director Dutch IT Channel: "Dit jaar ondersteunen we de Stichting Ambulance Wens dat door Dutch IT Channel is geadopteerd als goed doel voor de achtste editie van het prestigieuze Awards Gala. Stichting Ambulance Wens vervult sinds 2007 de laatste wens van niet meer mobiele patiënten die niet lang meer te leven hebben. Dat gebeurt met acht speciaal voor dit doel ontworpen ambulances en met de hulp van 270 medisch geschoolde vrijwilligers. In 15 jaar tijd werden er in totaal ongeveer 18.500 wensen vervuld. Dit is voor de betrokken patiënten en hun omgeving vaak van onschatbare waarde.'
Lees HIER meer over Stichting Ambulance Wens en maak ook het verschil. Wilt u een donatie doen of meer informatie? Neem dan contact op met Frans Vertregt: 06-10946545 of f.vetregt@dutchitchannel.nl
 Dan bieden wij de bijdrage als gehele Channel aan op 16 maart 2023 tijdens het Dutch IT Channel Awards Gala.
Stemmen
Dutch IT Channel wil graag iedereen bedanken die een nominatie heeft ingediend. Vele partijen in de ICT-branche spelen een cruciale rol in de digitalisering, de cyberbestendigheid en bij het maatschappelijk-economisch succes van Nederland. Dat viert Dutch IT Channel elke jaar met een award uitreiking onder het motto 'Let's celebrate the channel'.
Breng ook uw stem uit op: www.dutchitawards.nl/stemmen
Voor meer informatie over de Dutch IT Channel Awards en alle sponsormogelijkheden kunt u contact opnemen met Frans Vertregt: 06-10946545 of f.vetregt@dutchitchannel.nl
Genomineerden Dutch IT-channel Awards 2022
VAR of the Year
Aces Direct
Dustin
Infinity IT
Insight Enterprises Nederland
Pro Warehouse
MSP of the Year
BPSOLUTIONS
NTT Ltd.
ON2IT
PQR
SLTN
CSP of the Year
BPSOLUTIONS
Eshgro
Fundaments B.V.
Leaseweb
SLTN
Datacenter Services Innovator of the Year
Axians
Conscia
Digital Realty
Equinix
NorthC Datacenters
Cloud Distributor of the Year
Arrow Nederland
Copaco
Ingram Micro
Pax8
TD SYNNEX
Cloud Vendor of the Year
Datto
Dell Technologies
Nutanix
Red Hat
VMware
Datacenter Technology Innovator of the Year
Juniper Networks
Nutanix
Pure Storage
Schneider Electric
Vertiv
Cloud Security Innovator of the Year
Commvault
CrowdStrike
Palo Alto Networks
Trend Micro
Zerto
Digital Workplace Innovator of the Year
HP Nederland
Jamf
ServiceNow
VMware
Zoom Video Communications
Broadline Distributor of the Year
ALSO
Copaco
Exertis
Ingram Micro
TD SYNNEX
Specialist Distributor of the Year
Arrow Nederland
Exclusive Networks
Flex IT
TD SYNNEX
Westcon
Communications – Telecom Innovator of the Year
Cisco
SLTN | HPS
VolkerWessels Telecom
Xelion.
Zoom Video Communications
Hardware Innovator of the Year
Cisco
Dell Technologies
Hewlett Packard Enterprise
Lenovo
Panduit
IoT / Edge Innovator of the Year
ALSO
Axians
Check Point Software Technologies
Hewlett Packard Enterprise
Schneider Electric
Networking Innovator of the Year
Aruba, a Hewlett Packard Enterprise company
Cisco
Cradlepoint
Juniper Networks
NETGEAR Benelux
Storage Innovator of the Year
Cloudian
Datacore Software
Dell Technologies
Pure Storage
Wasabi Technologies
Security Innovator of the Year
Arctic Wolf
Datto
ESET
SentinelOne
WithSecure
Security Distributor of the Year
Arrow Nederland
Copaco
Infinigate
Ingram Micro
TD SYNNEX
Software Innovator of the Year
Cohesity
IBM
Mendix
OutSystems
ServiceNow
As a Service Innovator of the Year
Boomi & Nalta
KnowBe4
Lenovo
NTT Ltd.
PQR
CxO of the Year m/v
Alexandra Schless | NorthC Datacenters
Anton Loeffen | Eshgro
Arjen Bakker | VolkerWessels Telecom
Clemens Esser | Hewlett Packard Enterprise
Sven van Boxtel | Aces Direct
Channel Manager of the Year m/v
Kees van Luijk | Dell Technologies
Kenneth del Rio van Heese | VMware
Mark Boeijen | Commvault
Mark Olij | Palo Alto Networks
Sven Schoenaerts | Nutanix
Marketing Manager of the Year m/v
Annemiek Nijland | Cisco
Edwin Kanis | Axians
Gabriëlle Offringa | Nutanix
Marc Verhoeven, Rody van Houten, Jeroen de Kam | Arrow Nederland
Roy van den Hoogen | WithSecure
Sales Manager of the Year m/v
Jeffrey Laheij | SLTN
Jihane Abid | G DATA
Marco Lesmeister | PQR
Rob Lenderink | ALSO
Wing Leung | Veeam